Teijin Develops Extra-functional Nylon Fabrics for Expanding Athleisure Business
Tokyo, Japan, July 14, 2016--- Teijin Frontier Co., Ltd., the Teijin Group's fiber products converting company, announced today that it has developed a new nylon-based materials and related textiles by adapting the company's well-established polyester production technologies for nylon materials. The newly developed products offer the high functionality of polyester products such as lightweight, moisture management, anti-transparency, and softness — while retaining the characteristics of nylon fiber produced by Taiwanese nylon manufacturer Chain Yarn Corporation.
DELTAPEAK®
This new knitted nylon and its related textile fabrics are ideal for outdoor, sports and casual wear. DELTAPEAK's advantages include lightweight, softness, anti-transparency, stretchability, snag resistance and useful bulkiness thanks to its dense, flat-knit surface. It also offers high durability and coloring properties.


DELTAPEAK® Knitted Fabric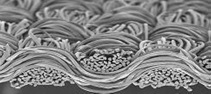 DELTAPEAK® Textile Fabric
WAVERON™
Teijin Frontier's new nylon fiber features a unique cross-sectional shape consisting of four flat peaks, which enhance anti-transparency, moisture management and quick-drying. In addition, the nylon's original characteristics offer softness, hygroscopic effectiveness, wear resistance and a cool feel to the touch. WAVERON nylon fiber is suitable for use in yoga wear and compression garments when mixed with urethane fiber, as well as inner wear and surface fabrics for wadding.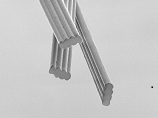 WAVERON™
Teijin Frontier plans to release DELTAPEAK and WAVERON in sportswear and outdoor applications for its 2017 spring / summer collections. Additional applications will be offered for dress, casual wear and industrial materials. Annual sales are expected to rise to 10 million meters by the fiscal year ending in March 2019.
Athleisure-type fashionable sportswear, including for outdoor and yoga wear, satisfies demands for soft, attractive outfits that are lightweight, moisture management, quick-drying and opaque. Going forward, Teijin Frontier will continue to develop advanced athleisure materials, leveraging its long experience with highly functional polyester products, to meet increasingly diverse consumer demands.
About the Teijin Group
Teijin (TSE: 3401) is a technology-driven global group offering advanced solutions in the areas of sustainable transportation, information and electronics, safety and protection, environment and energy, and healthcare. Its main fields of operation are high-performance fibers such as aramid, carbon fibers & composites, healthcare, films, resin & plastic processing, polyester fibers, products converting and IT. The group has some 150 companies and around 16,000 employees spread out over 20 countries worldwide. It posted consolidated sales of JPY790.7 billion (USD 7.4 billion) and total assets of JPY 823.4 billion (USD 7.7 billion) in the fiscal year ending March 31, 2016. Please visit www.teijin.com.
Press Contact
Corporate Communications
Teijin Limited
+81 3 3506 4055
pr@teijin.co.jp
Information in the press releases is current on the date of the announcement.
It is subject to change without prior notice.